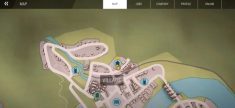 Key locations on the map only become marked after you've already traveled to them,
Or come across them. In the vast majority of cases, you'll be led to all the locations you need to go to by nature of the construction or delivery job.
Once you've accepted a job or mission, you'll have the option to set a Navigation Marker towards the next destination as a part of that job.