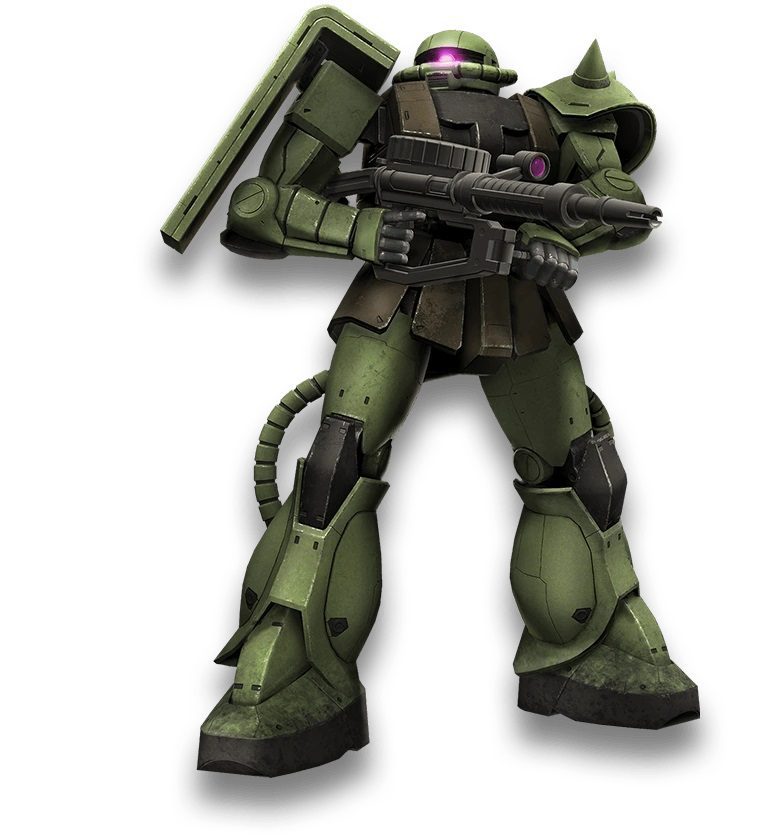 WEAPON & SKILL
Range : Close-Range
HP : 1200
Dash Limit : 2
A mass-produced mobile suit developed by the Principality of Zeon,
the Zaku's versatile design spawned numerous variations.
Vice Admiral Dozle Zabi's personal machine of this model is adorned with engravings and equipped with a large Heat Hawk.
Large Heat Hawk (Slash)
Main Action :
A cleaving strike with the Large Heat Hawk.
Effective against close-range targets to the front.
The strike pierces enemy units.
Guard Tackle
Sub Action
Raise arms to guard unit.
Main Action
Perform a forward tackle attack while guarding.
Inflicts damage on struck enemies, knocks them back, and disables their Shields.
Large Hear Hawk (Rotating Slash)
G Maneuver
Perform spinning strikes with the Large Heat Hawk for a period of time.
Deals damage and knocks back nearby enemy units.
Survive
Active Skill
Temporarily blocks all attacks, but user is rendered motionless.
During deployment, damage taken fuels the Rage Meter.
Large Heat Hawk (Shockwave)
Main Action
A mighty swing of the Large Heat Hawk that unleashes piercing shockwaves against enemy units.
Zeon's Rage
Active Skill
Unleashed when the Rage Meter fills.
Consumes the meter to temporarily confer Super Armor and boost attack power.
---